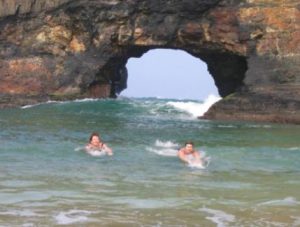 Hole In The Wall – 23rd to 30th Sept 2022
Hike Leader:  Elmarie / Ron
email: ronlyn@vodamail.co.za.
cell: 072 125 7858
Cost:  R1880 for Members and Non-Members R2000 (cost includes house keeping/cook and guide/hike leader/fisherman).
Distance: 2000km
Hikers are required to bring their own bedding and food and travel at your own cost.
Hole in the Wall will be base camp with various day hikes and activities organized such as Coffee Bay, White Clay Pub, Matata River Mouth, Mpuzi Caves, a Village experience, Easy Falls hike (18km), Ndumbi, Fishing, Whales Back and swimming at the Hole.
Accessible without a 4 x 4 but an advantage.
Vacation Style Holiday Type
Activity Level


B – Some Hills